As an Iowa State University graduate, I'm often filled with pride when I hear about activities happening on the campus that I called home for four years.  My husband Dave and I graduated from ISU's Agriculture Department, and I later worked in both the Food Science Department running taste tests on apples and at the Horticulture Farm doing field research.  Both departments feel a little like 'home'.
Several weeks ago, I heard about a research project ISU scientist Wendy White would be conducting on the GMO 'super banana'.  Australian researchers, with funding from the Bill and Melinda Gates Foundation, developed this banana to help combat vitamin A deficiency in Africa. An estimated 250,000 to 500,000 vitamin A deficient children become blind every year. Half of them die within 12 months of losing their sight.
Take a moment to imagine a scenario in which 125,000 to 250,000 children died each year in a developed country from a preventable situation.  We have mass outcry when ONE child dies from measles, but for some reason, a quarter of a million children dying in Africa from lack of a vitamin is hardly newsworthy. The newly developed 'super banana' will allow those who eat it to produce more vitamin A, preventing these devastating losses. Bananas are a staple food in large parts of Africa and can be grown easily, making them an ideal vehicle for vitamin A delivery.
Dr. White, a leading expert in how the body develops vitamin A, plans to study how well the banana works by feeding it to 12 students, paid $900 each to participate in the trial.  Twenty years ago, while scrounging up couch change to head to the Story City dollar theater, I would have been the first in line to sign up for this study.  The 'super banana' is a banana variety that is considered a staple crop in East Africa, but has an inserted gene from a closely related wild banana which allows for increased vitamin A to be delivered to those who need it most.  Three cheers for our alma mater's participation in something so monumental.
Last week, my pride turned to embarrassment.  No, the red face was not particularly due to the college, but to the caliber of students stepping around the Zodiac in the Memorial Union.  Wait, maybe that's what went wrong here!  A group of students stepped on the bronze zodiac, flunked science, and came to the brilliant idea that they and their well-fed bellies should protest something that has the potential to save the sight of hundreds of thousands of children.  This is the only possible explanation, as ISU is a leader in education.
A group of well-fed, and perhaps well-paid, students from ISU joined together with AGRA Watch and CREDO Action to protest this study and deliver a petition, conducted by CREDO, to the Gates Foundation.  CREDO Action is the political action portion of a phone company that is very 'anti-corporation', but delivers service via Sprint, because, you know, Sprint isn't a corporation.  CREDO Action enjoys giving financial gifts to Earthjustice, the Organic Consumers Association, and other such groups that will undoubtedly profit from the halting of this important research being conducted at ISU.  The OCA is on the front lines of the anti-transgenic movement, giving money to big corporations that stand to profit from the demise of biotechnology and the promotion of organic products which only the well-fed can afford in the first place.  No irony here at all.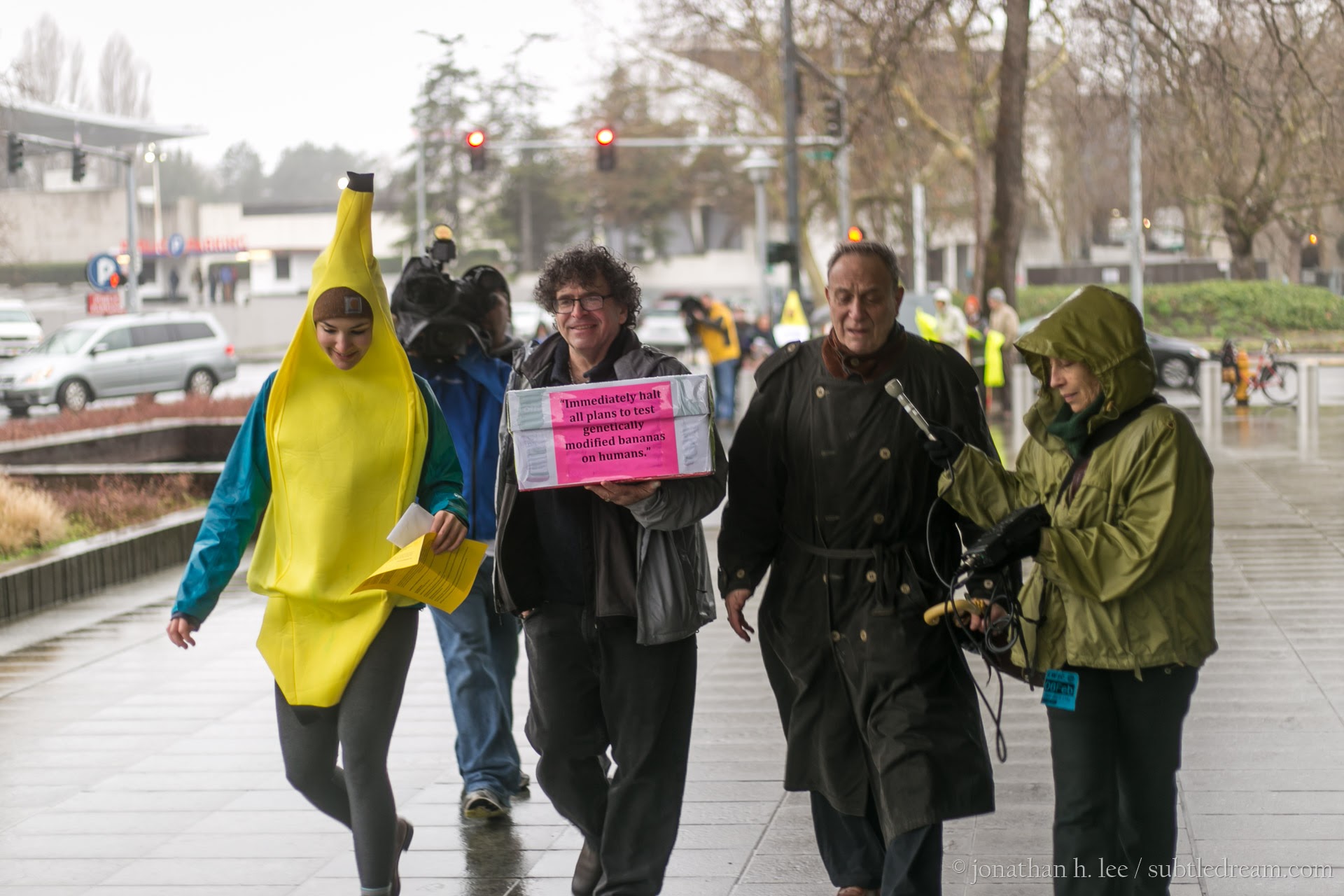 Community Alliance for Global Action delivering petitions to the Gates Foundation in Seattle
Their misguided activism has real costs.  By attempting to delay the trial, these students are denying African children access to lifesaving technology.
"In Uganda and other African countries, vitamin A deficiency is a major contributor to deaths in childhood from infectious diseases," Dr. White said in a statement, "Wouldn't it be great if these bananas could prevent preschool kids from dying from diarrhea, malaria or measles?"
Wouldn't it be great indeed!  I wonder what goes through the minds of this small handful of students protesting a simple banana?  Do they really think they're saving the world?  Do they not understand that they are condemning another year's worth of children to blindness and death?  Where is their conscience?  Where is their moral code?  ISU is doing the right thing and going on with the trial.  It's time for anti-GMO activists with full bellies to stop making food choices for nutrition deprived people around the world.
Banana photo courtesy of Photograph Bug.  Follow her 366 Photography on Instagram HERE.